When you think of the essence of co-working, what comes to mind? For us at UNAWA, it's not just about finding a place to work; it's about finding a community that resonates with our values, a space that allows us to choose our own workstyle. It's about flexibility, creativity, and the ability to adapt.
Our recent Co-working Caravan in Cebu was nothing short of enlightening. Seven co-working spaces, countless conversations, and numerous cups of coffee later, we came away with a deeper appreciation for the remote working community in this vibrant city.
RELATED: UNAWA SignSecure To Launch Caravan Tour at Cebu's Top Co-Working Spaces in August
But why Cebu? Well, the rise of remote work is not just a Manila tale. It's nationwide, and Cebu, with its unique blend of culture, tech, and entrepreneurial spirit, stands out as a hub. We wanted to connect firsthand with this diverse group of people, spaces, and stories. We wanted to grasp the changing face of work, especially in the time of the 'new normal.'
So, buckle up as we take you on a journey through Cebu's co-working spaces, through the voices of its denizens, and the visions of its founders. Let's explore together what choosing your own workstyle in the Queen City of the South means.
A Spotlight Tour of the Workspace Wonders in Cebu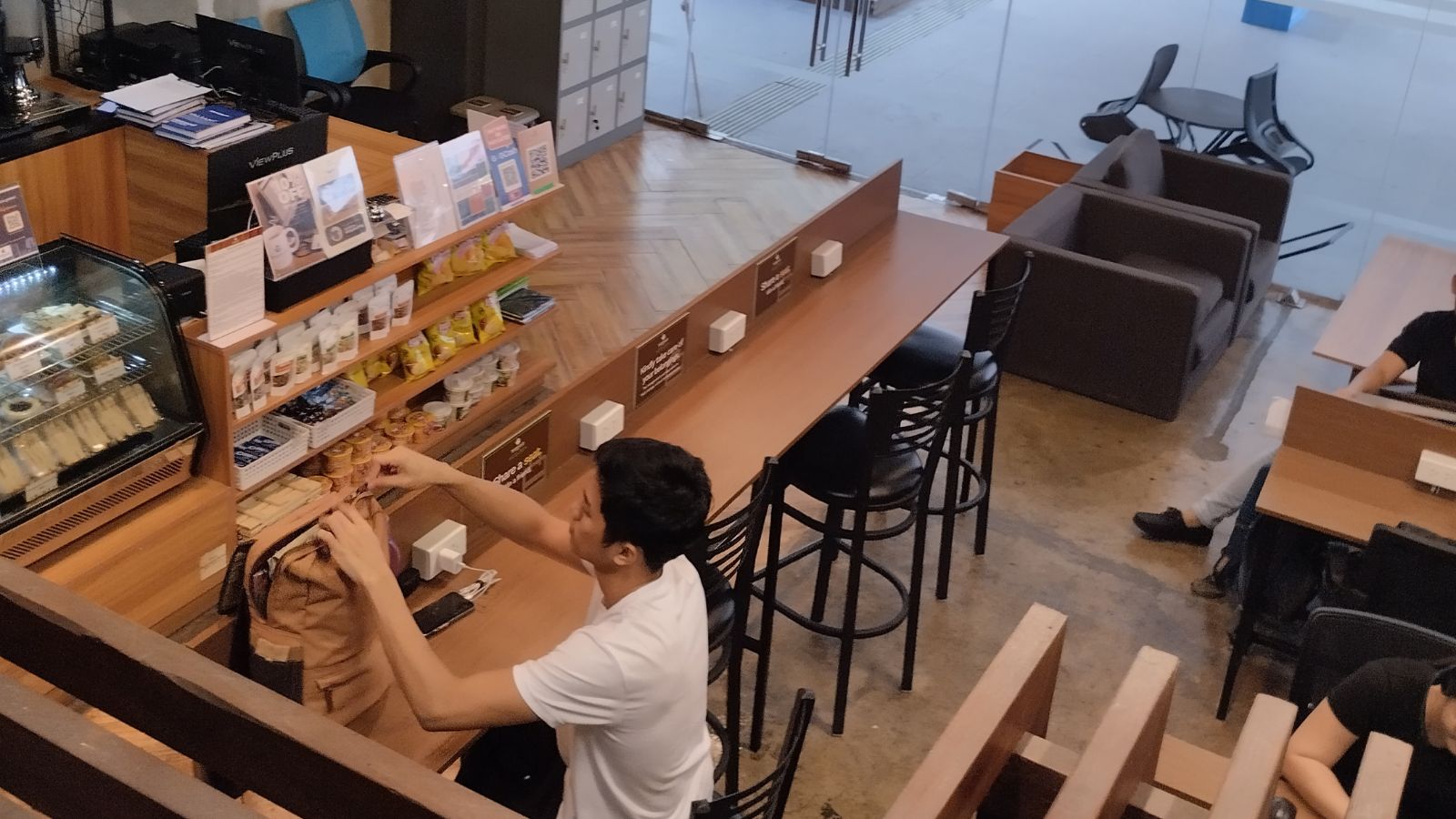 The Workplace Cafe takes the idea of a cafe to the next level, blending the comforts of a coffee shop with the functionality of a co-working space. Multiple branches across Cebu offer a sanctuary for remote workers, students, and entrepreneurs to focus, create, and collaborate.
Locations:
Jamestown, Mantawi Ave., Tipolo, Mandaue City, Cebu: 24/7 (032) 326-1245 / 0950 537 6713

#2 Autogas Station, Banawa, Guadalupe, Cebu City: 24/7 (032) 564-2477 / 0956 459 8316

Ayala Malls Central Bloc, Apas, Cebu City: 24/7 0956 583 9351

Raintree Mall, F. Ramos Street, Cebu City: 24/7 (032) 422 0829 / 0908 264 4906
Best Features:
24/7 Accessibility: Work around your schedule, any time of day or night.
Branch Diversity: Pick a location that suits your vibe, from busy city centers to quieter nooks.
High-Speed Internet: A necessity for any remote worker or student.
Ergonomic Furniture: Ensuring comfort for long hours.
Meeting Rooms: Available for when collaboration calls.
Rates:
(Note: Rates might vary per branch. For detailed rates, please visit their official website or call directly.)
Day Pass: Php 380 for 24 hours
Hourly: Php 60
Monthly: Php 8,000
Voices from The Workplace Cafe: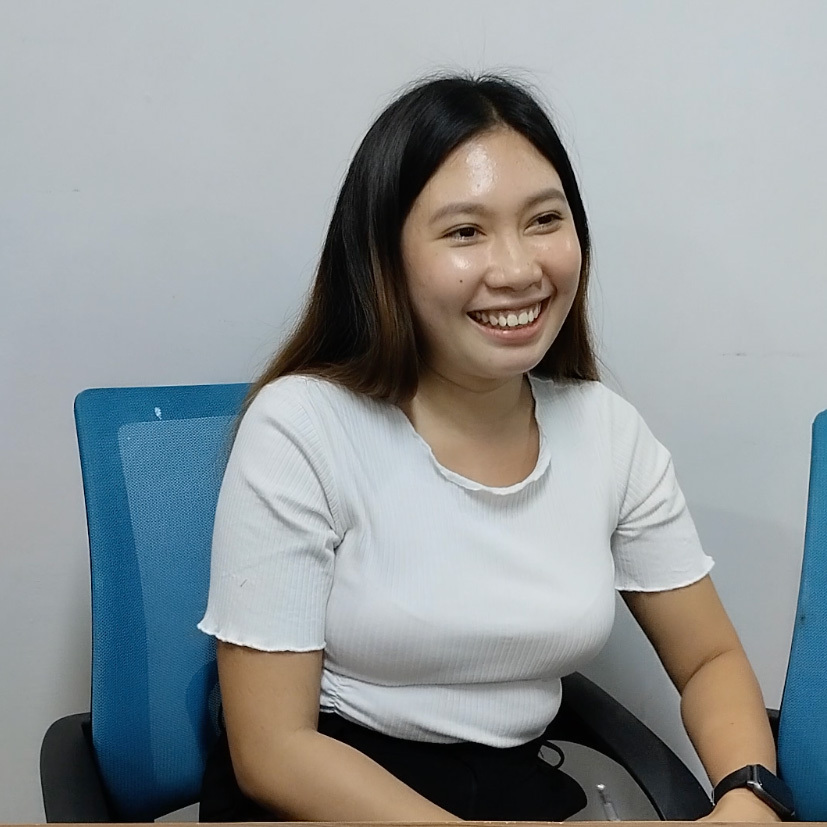 "Our vision was simple: create a space where people could feel as relaxed as they would in a cafe, but with the amenities of a modern workspace," shares the business development coordinator, Jemhaca Rose Quimque.
Disclaimer: Our experiences and insights about the Workplace Cafe are based primarily on our visits to the IT Park and Mandaue branches. While these branches offer a glimpse into the vibe and ethos of the Workplace Cafe, there may be variations at other branches.
2. Enspace
Situated in Cebu's bustling IT Park, Enspace is a nexus between Japan and Cebu, focusing predominantly on tech startups. It's more than a co-working zone; it intersects cultures and innovation.
Location:
Unit 1102, 11th Floor Park Centrale Building, Jose Maria Del Mar St., IT Park, Lahug, Cebu City, Philippines: (0927) 003 8581
Best Features:
International Connection: Building bridges between Japan and Cebu.
Tech Hub: A particular emphasis on supporting tech startups.
Modern Design: Clean, open spaces designed for productivity.
Networking Events: Regular meetups to connect with fellow innovators.
Rates:
Co-working: Php 50 per hour, a minimum of 2 hours
Free Desk Membership: Php 6,500/month (free seating)
Dedicated Desk Membership: Php 9,000/month (dedicated workspace + business address)
Voices from Enspace: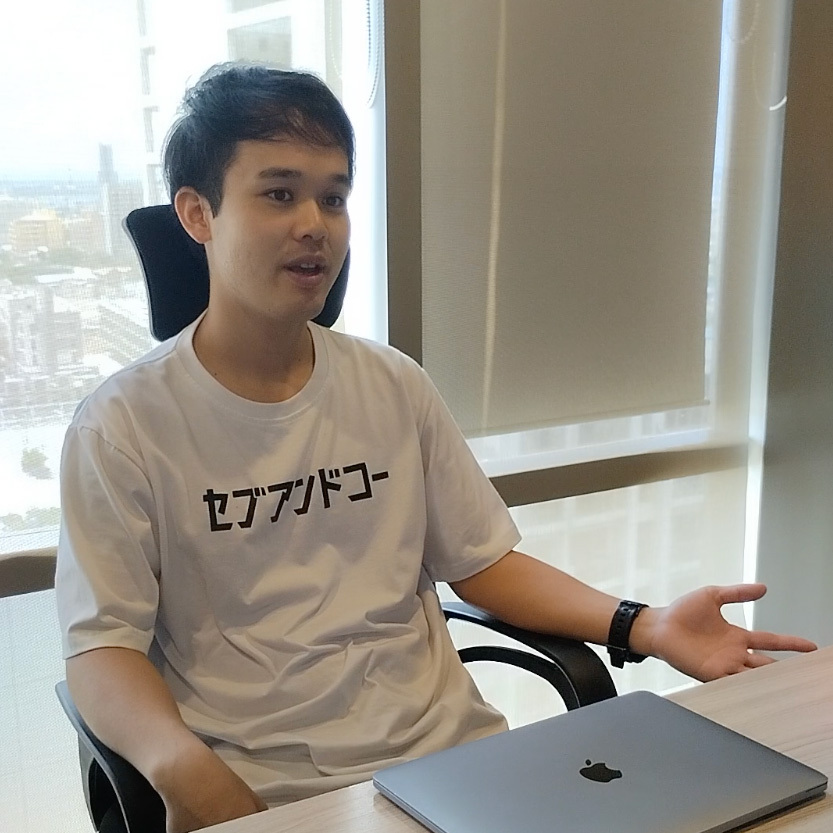 Ryota Yamada says, "We're more than just a co-working space. We aim to bridge connections between Japan and Cebu, especially focusing on startups in the tech space."
3. From Here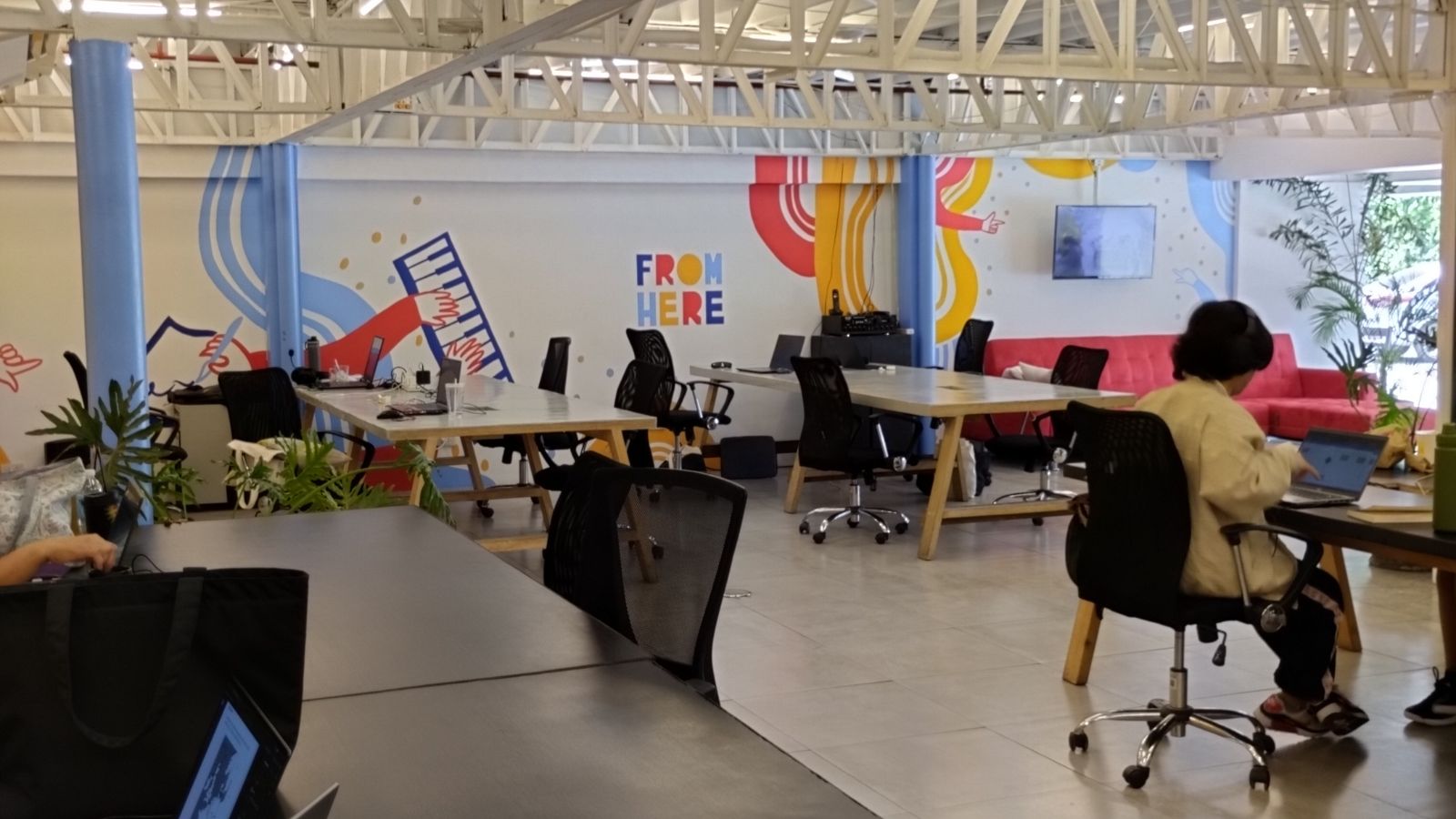 ​'From Here' is more than just a co-working space; it's an event haven. Perfect for the modern nomad who wants a mix of work and play, they offer everything from board game nights to live gigs.
Location:
Unit KLM, Crossroads Mall, Gov. M. Cuenco Ave, Kasambagan, Cebu City, Philippines: (032) 236 5719
Best Features:
Versatility: Transforms from a workspace by day to an event space by night.
24/7 Access: Work at your convenience.
Event Nights: Gigs, board game sessions, and more.
Strategic Location: Located at the Crossroads Mall, making it accessible.
Rates:
Daily Pass: Php 400
Monthly Membership: Php 8,500
Voices from 'From Here':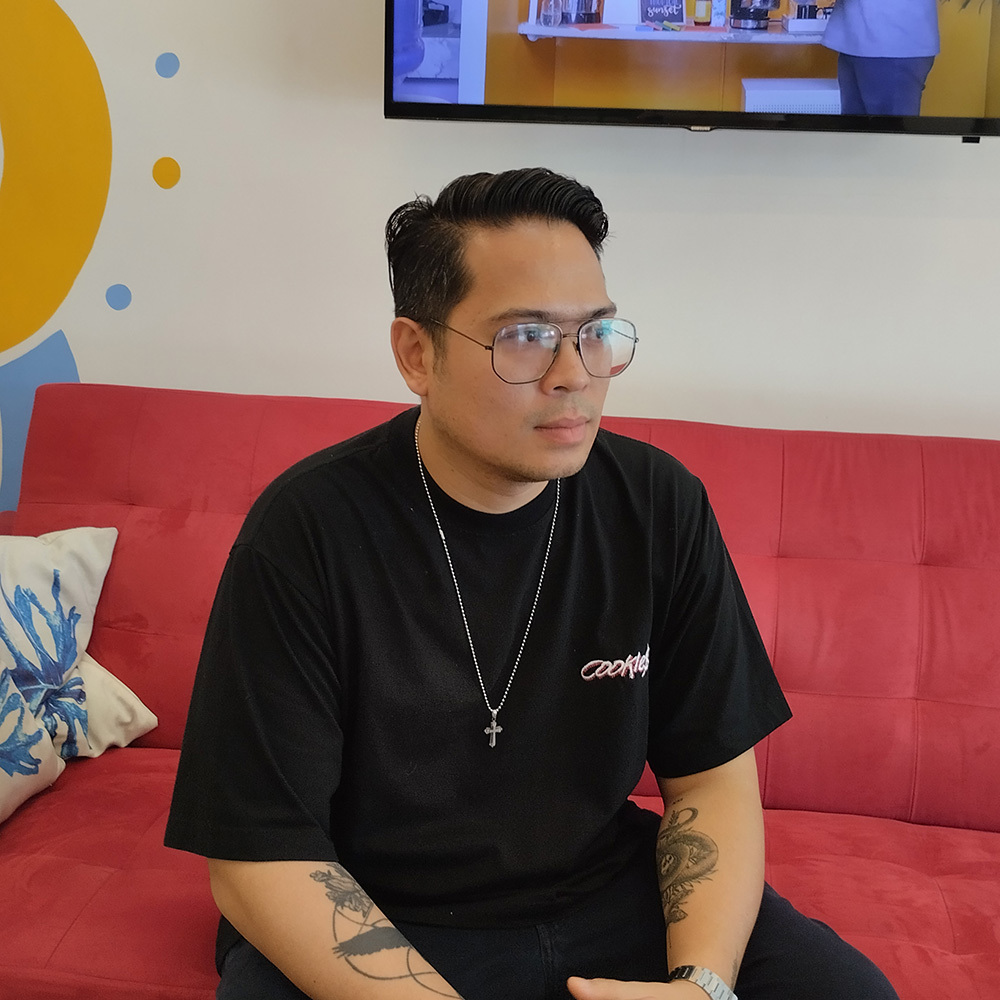 Jeaun Tolsa mentions, "Beyond co-working, we believe in creating a dynamic environment where people can work, play, and network."

4. Sync Work + Study Hub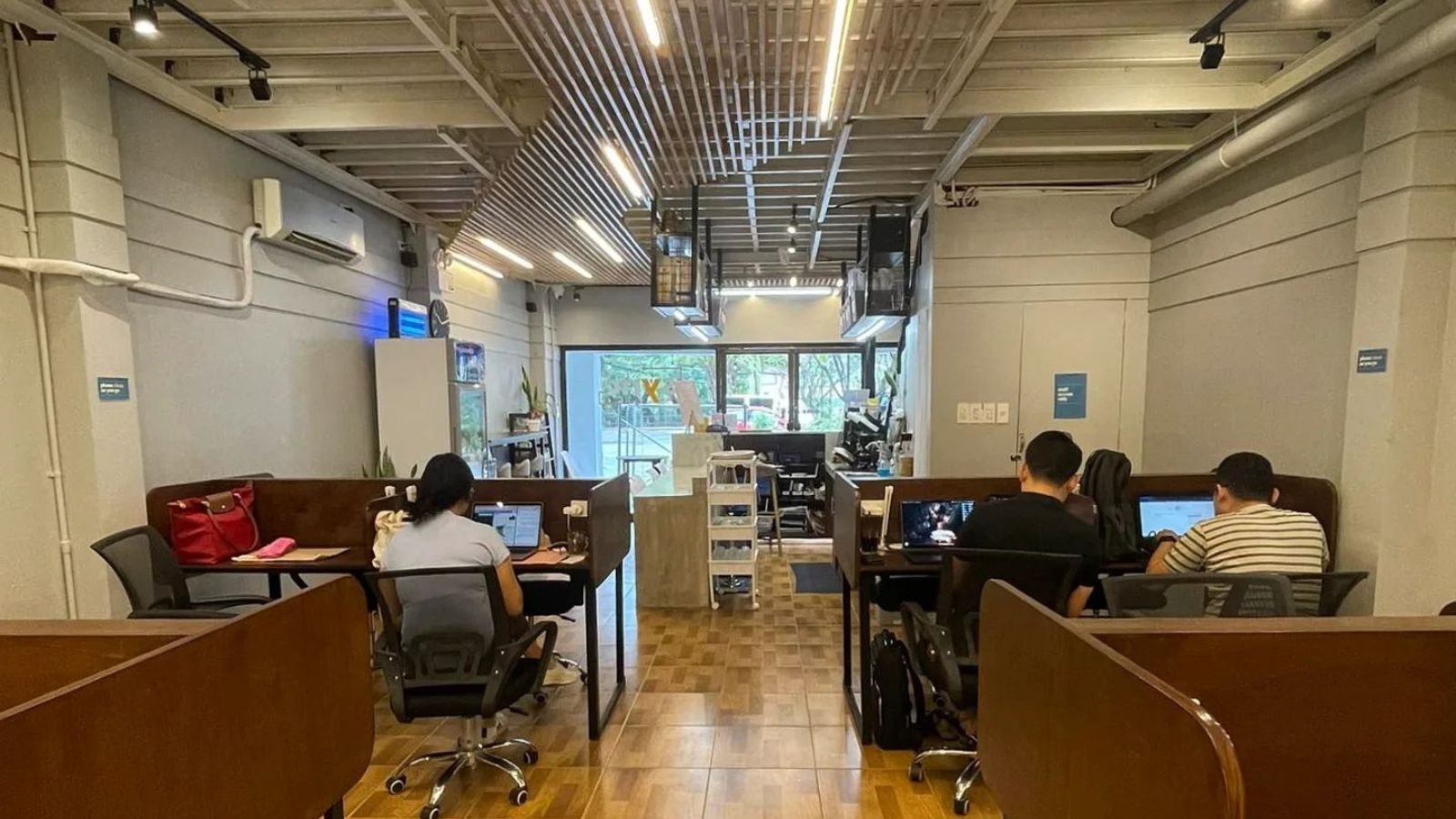 Sync Work + Study Hub is a sanctuary for both students and professionals. Rheland and Jacque Servacio conceptualized this space to offer an inspiring and productive atmosphere, a refreshing departure from the usual cafes.
Location:
Unit 11, St. Patrick's Square, R Aboitiz St, Cebu City, 6000 Cebu: (032) 407 4135
Best Features:
Dual-Purpose Space: Catering to students and professionals for an optimum work and study balance.
Inspiring Ambiance: Designed to motivate productivity and creativity.
Modern Amenities: Equipped with high-speed internet and cozy nooks for focused work.
Collaborative Areas: When teamwork or group study sessions are on the agenda.
Rates:
Hourly: Php 39 (the first hour is Php 45)
Half Day: Php 145 for a 4-hour pass
Day Pass: Php 270 for a 12-hour pass
Team No Sleep: Php 320 for a 24-hour pass
Night Owl: Php 220 for a 12-hour pass, anytime from 7 pm to 8 am
Private Pod: Starts at Php 60
Weekly: Starts at Php 1,450
Monthly: Starts at Php 4,950
Voices from Sync Work + Study Hub: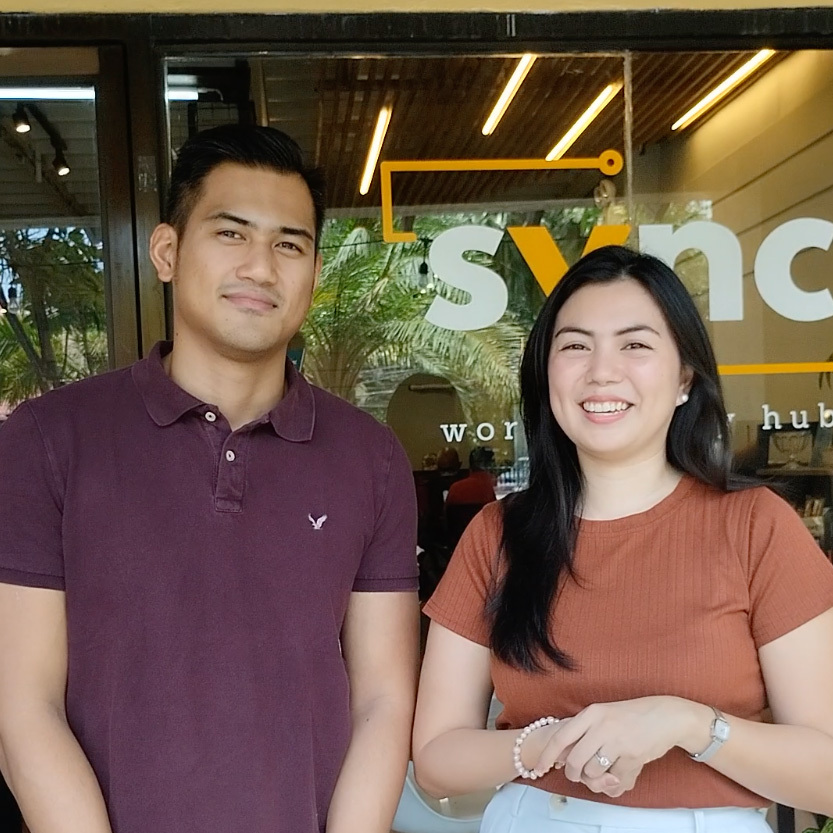 Rheland Servacio says, "Our vision was to create a haven away from the usual distractions. A place where focus meets comfort."
5. The Company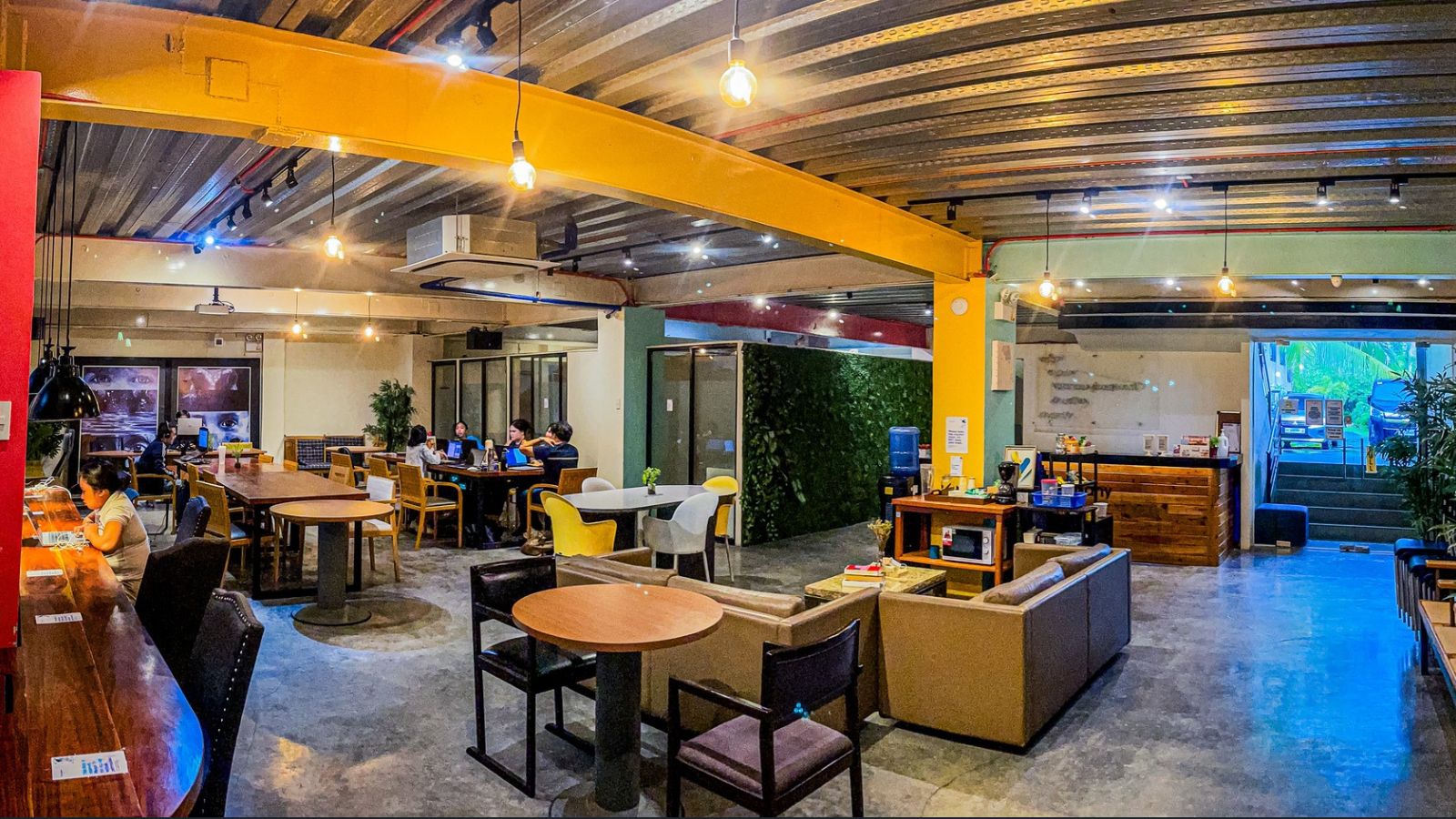 The Company reimagines the traditional office, infusing it with youthful vigor, particularly from its Gen Z interns. With spaces in both the bustling IT Park and the accessible JDN Square in Mandaue, they offer a cocktail of creativity and corporate functionality.
Locations:
6th Floor, Mabuhay Tower, IT Park Corner Jose Maria del Mar St, Abad St, Cebu City, Cebu, Philippines: 0945 641 6142

Ground Floor, Building 4, JDN Square, P. Remedio St, Mandaue City, Cebu, Philippines 6014: 0956 740 3424
Best Features:
Gen Z Vibe: A young, dynamic energy buzzing with innovation.
Collaborative Spaces: Encouraging ideation and teamwork.
Networking Opportunities: Regular events to connect members.
Flexible Plans: Catering to both freelancers and startups.
Rates:
Co-working Space: Starts at Php 400/day and Php 2,000/month
Virtual Office: Starts at Php 4,500/month
Private Office: Starts at Php 24,000/month
Voices from The Company: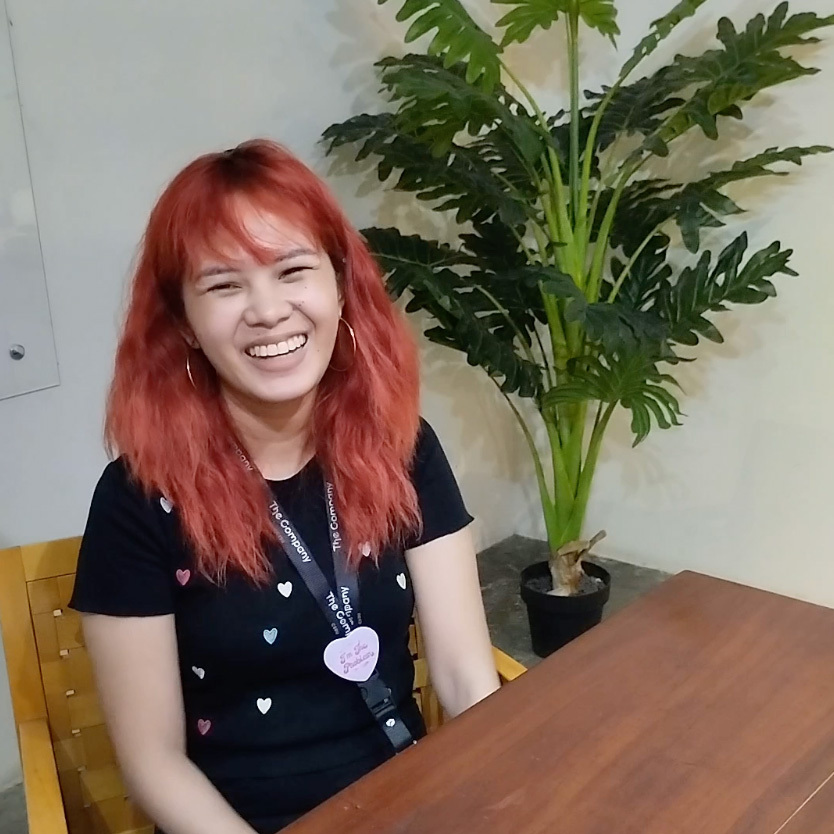 Lea Gein Cabrera says, "We've crafted an environment that's more than just desks and chairs. It's about energy, creativity, and collaboration." Ernest, an intern, emphasizes, "Most Gen Z's don't want the usual bland office setup."
Disclaimer: Our mention of 'The Company' co-working space draws from our experiences at the Mandaue branch. It's worth noting that each branch of 'The Company' may have its unique features and ambiance.
6. The Green Space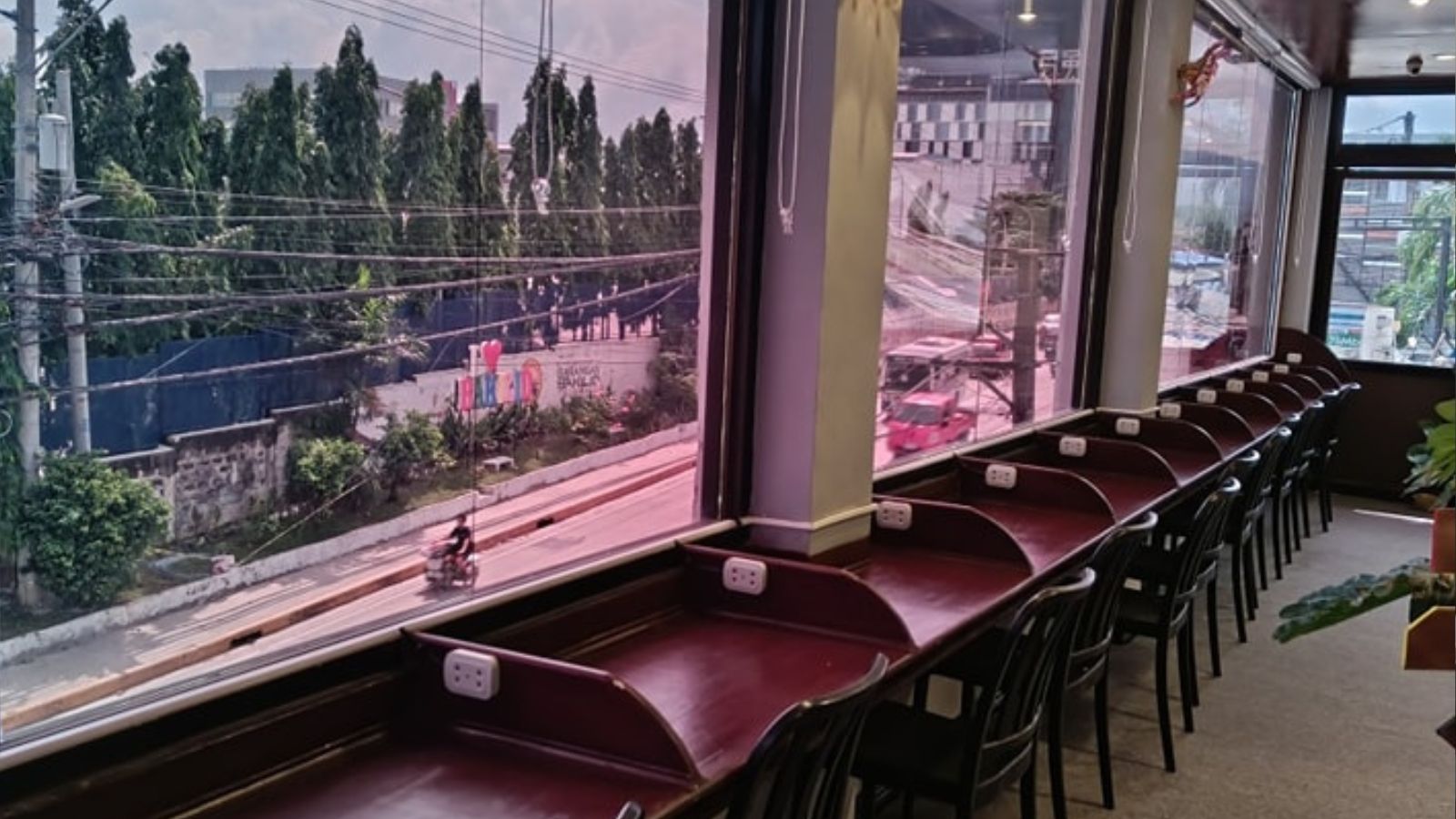 The Green Space offers a dynamic milieu, a multi-purpose space above the Good Juju restaurant and connected to the 219 Traveller's Inn hostel. Here, students and remote workers merge in a buzzing round-the-clock ecosystem.
Location:
219 AS Fortuna Street, Mandaue City, Philippines: 0995 281 4171
Best Features:
Mixed-Use Setting: Combining co-working, dining, and accommodation.
Diverse Community: A blend of students, remote workers, and travelers.
Eclectic Ambiance: Drawing inspiration from nature for a serene work environment.
Round-the-Clock Buzz: A 24/7 operational space matching the city's energy.
Rates:
Daily: Php 80
2-Week Pass: Php 880
3-Week Pass: Php 1,160
Monthly: Php 1,430
Voices from The Green Space: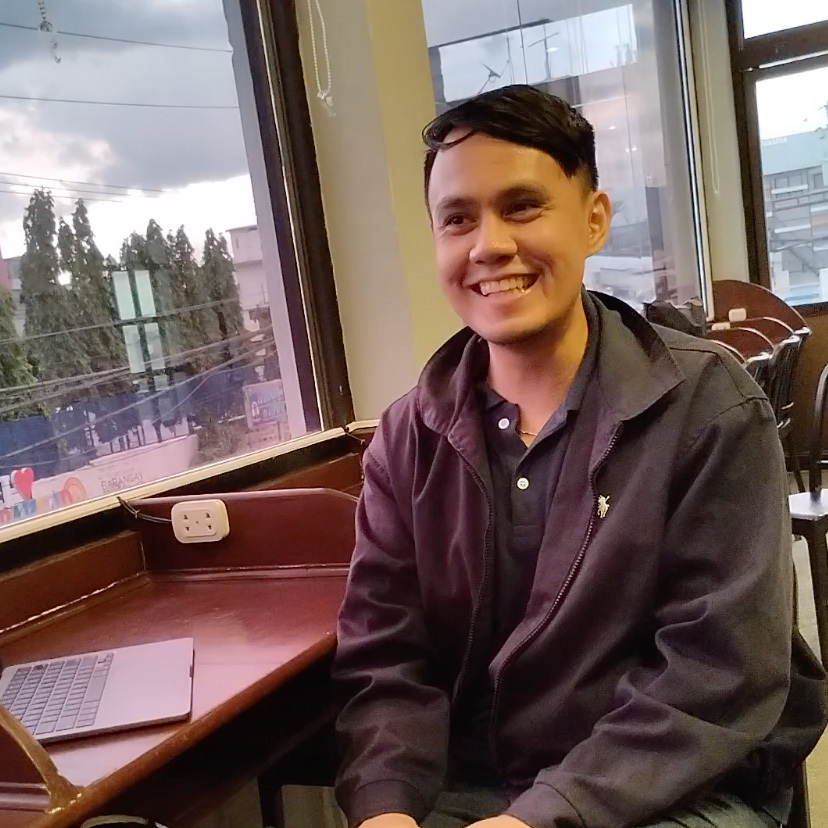 Jiri Dinsay shares, "We wanted to cultivate a space that's more than just desks and Wi-Fi. The Green Space is about community, connection, and creativity."
Zooming Out: Reflections and Takeaways
When one thinks of Cebu, the pristine beaches and rich cultural heritage often come to mind. But, having journeyed through its burgeoning co-working spaces, it's evident there's an evolving story here—one of Cebu as a hotspot for the remote working community.
The Bigger Picture: Cebu is morphing into a digital nomad's haven. The rise in co-working spaces, each distinct in its offerings, echoes a deeper transformation. Remote work isn't just a passing trend; it's an integral part of the city's modern fabric. It's not just about connecting to Wi-Fi but about interlacing dreams, aspirations, and global collaboration within the confines of these spaces.
Contributions to the Landscape: Each co-working location we toured offers more than just a seat and a table. They've sculpted ecosystems that nourish the digital worker. Whether it's The Company's youthful vibe, The Green Space's mix of work and relaxation, or enSpace's dedication to bridging global connections—Cebu's co-working spaces are diversifying the very definition of 'workspace.' They're pioneering a future where work isn't confined to office cubicles but spans across lively hubs that fuse productivity, creativity, and community.
Community and Collaboration: The most heartwarming takeaway from this caravan is the palpable sense of community. It's in the shared coffee breaks at Sync Work + Study Hub, The Workplace Cafe's brainstorming sessions, or the From Here evening gigs. Collaboration isn't just a buzzword in Cebu; it's a lived experience. Spaces have become arenas where solo freelancers, startups, and even students find synergy.
RELATED: An Extrovert's Guide to Remote Work: How to Keep Yourself Socialized
Conclusion
As our journey through the Co-working Caravan in Cebu wraps up, it's impossible not to feel a swell of excitement. Cebu isn't just making strides; it's gearing up for a sprint in remote work. From the cozy nooks of The Workplace Café to the dynamic hub that's enSpace, each spot we visited promised more than just a desk; it hinted at a brighter, more connected future.
Cebu's remote working scene is bursting at the seams with potential. Every co-working space we encountered, every professional we chatted with brought to light the city's undeniable shift toward a more flexible, interconnected working community.
And in the heart of it all?
UNAWA is steadfast in its mission. UNAWA's dedication to nurturing Cebu's remote work ecosystem shines through by linking professionals to their ideal workspaces and championing collaborative endeavors.
So, if you want to be a part of this vibrant community and yearning for a workstyle tailored to your needs, look no further. Dive into the world of UNAWA. Come, be a part of this movement. Let's redefine work together.
Ready to embark on your workstyle journey with us? Sign up to UNAWA now, and let's co-create the future of work in Cebu.